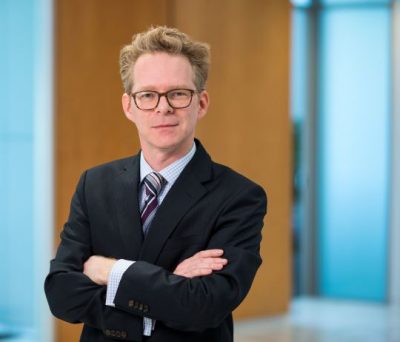 An accomplished trial lawyer with ten years of experience at AmLaw 100 firms, Jeffrey Atteberry, J.D., Ph.D., litigates complex matters in both federal and state courts.  His practice primarily focuses on commercial litigation, including disputes involving misappropriation of trade secrets, unfair competition, antitrust, copyright, breach of contract, class actions, corporate governance, and partnership dissolution.   He also has broad experience representing employees in disputes with employers involving wrongful termination, harassment, discrimination, and whistleblower conduct, as well as policyholders litigating denied coverage claims against their insurers.
Jeff has spent his legal career helping clients in high-stakes matters.  He has represented nationally recognized companies across a broad range of industries, including e-commerce, FinTech, software development, media, advertising, education, energy, finance, real estate, construction, and manufacturing.  While he is comfortable representing Fortune 500 companies in their most significant disputes, he is equally invested in counseling individuals, small businesses, and non-profit organizations, who rely on his steady advice to guide them through their most pressing legal issues.
As a former educator, Jeff has an analytical and creative approach to crafting innovative solutions for his clients' most demanding legal problems.  As a business attorney, he understands that litigation is a business problem requiring a legal solution, and he partners with his clients to minimize business and reputational disruptions while working efficiently to resolve their legal challenges.  As a plaintiff-side employment and policyholder attorney, he is a fierce advocate for his clients, and he regularly draws inspiration from the courage of his clients in their pursuit of just and equitable treatment.
Jeff's approach to practicing law is deeply informed by his work on civil rights matters.  He has tried multiple Section 1983 cases in federal court on behalf of prisoners asserting medical negligence and abuse of force claims.  His appellate experience includes writing important amicus briefs in support of civil rights attorneys fighting against the indiscriminate use of solitary confinement in state prisons.  Drawing on his background in higher education, he also organized a coalition of over 60 colleges and universities and helped secure a nationwide injunction blocking proposed changes to the international student visa program.  He has been recognized by multiple jurisdictions for his pro bono efforts.
Jeff Atteberry received a bachelor's degree from Princeton University and then a doctoral degree in Comparative Literature and Critical Theory from the University of California, Irvine, where he studied under Jacques Derrida.  After teaching at the University for several years, he went to law school and received his J.D. from the University of California, Berkeley, graduating as a member of the Order of the Coif. He began his litigation career at Quinn Emanuel Urquhart & Sullivan (where he and Nilay Vora first met) and was a partner in the complex commercial litigation group at Jenner & Block LLP before joining The Vora Law Firm as a Principal.