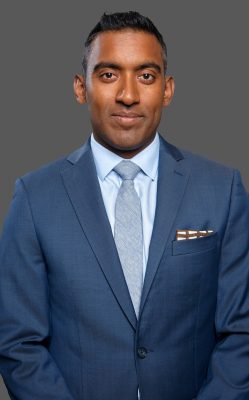 The firm was founded by Nilay U. Vora, a recognized trial and appellate lawyer who has been sought out by both individuals and businesses in complex business disputes, criminal investigations, and civil rights cases. Mr. Vora exclusively represents plaintiffs in high-stakes employment disputes. Clients appreciate that he takes a results oriented approach, tenaciously but efficiently working to achieve the ultimate objectives and adjusting strategy as those objectives evolve.
Mr. Vora's legal skills have been recognized by the legal community. Mr. Vora was named a SuperLawyer in 2020, and for each of the preceding five years was recognized as a SuperLawyers Rising Star. He serves annually as a visiting faculty member at Harvard Law School where he teaches trial advocacy and presentation skills to second and third year law students at Harvard's Trial Advocacy Workshop. He has been fortunate to have had current and former judges favorably remark on his cross-examination skills at trial and oral arguments at appeal. He is the recipient of the inaugural Pro Bono award presented by the National Asian Pacific American Bar Association. He has also been invited to speak at various conferences and law schools, including Yale Law School, Harvard Law School, the California Society of Healthcare Attorneys, and the Federal Bar Association.
Nilay has developed a reputation for using novel legal theories in successful representation of his clients. His creativity, tenacity, and acumen have been recognized by local and national media. In June 2020, Law360 reported on a healthcare trade secrets dispute in which Mr. Vora served as lead counsel at oral argument. A real estate dispute on behalf of a health care provider was recognized by the national media publication Law360 as one of the top three cases to watch in 2017.  A different civil rights case involving the torture through confinement in extreme heat of Louisiana death row inmates has been extensively covered by the media, including by the New York Times and National Public Radio. A civil rights case involving the rights of local officials to run for elected office was extensively covered by the Los Angeles Times and the local National Public Radio affiliate.
Nilay earned his J.D., cum laude, from Harvard Law School and his B.A.  in Mathematics, summa cum laude, from the University of Southern California. A Marshall Scholar, Nilay also holds an MSc in Human Rights from the London School of Economics and an MPhil in Management Science from the Judge Business School at the University of Cambridge (St. John's College). He began his practice at the litigation juggernaut Quinn Emanuel Urquhart & Sullivan and at the nationally recognized boutique litigation powerhouses Bird Marella and LTL Attorneys, where he successfully represented individuals and businesses on the plaintiff and defense sides of high stakes disputes, criminal investigations, and civil rights cases.

Ball v. LeBlanc, 792 F.3d 584 (5th Cir. 2015)